About Flow – Dapper Labs Coin
Flow – Dapper Labs price today is $8.99 with a 24-hour trading volume of $7,082,015. FLOW price is up 81.7% in the last 24 hours. It has a circulating supply of 23 Million FLOW coins and a max supply of 1.25 Billion. Kraken is the current most active market trading it.

Flow by Dapper Labs (The company which created CryptoKitties) is a blockchain network that aims to be fast, secure, and developer friendly.
The idea for a new blockchain targeting games and social networks was conceived after Ethereum faced large scalability issues as seen with the high transaction fees during the CryptoKitties hype. The Flow team deduced shards and sidechains were not long term solutions for apps that strive for performance.
Investors include large backers such as Andreessen Horowitz, Warner Music Group, Union Square Ventures, Digital Currency Group, and more.
FLOW token is the native currency for the network. All applications and network transactions in the blockchain will require the FLOW currency. The token is also used by validators, developers, and users to participate in the FLOW network and earn rewards. It is also used for fees and to participate in future protocol governance.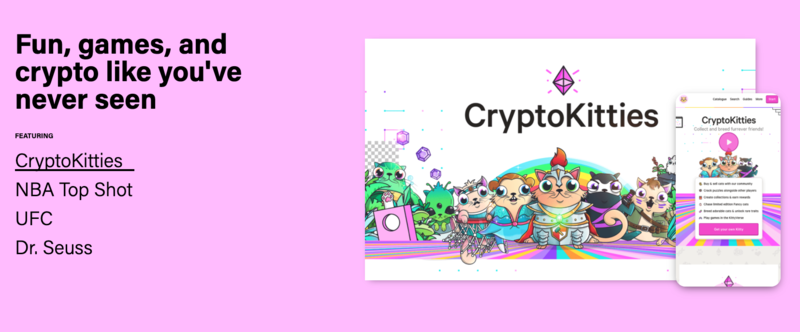 What apps are running on Flow?
NBA Topshot is already live and running in beta and have acrued record breaking collectable sales since launched. More apps from Dapper Labs such as CryptoKittis and Dr. Seuss are expected to be ported to Flow. There is also a growing vibrant developer community.
What are the problems that Dapper Labs are aiming to solve?
Multi-role Architecture
Resource Oriented Programming – Cadence, the smart contract language is designed to be safe and easy for developers to learn when building dapps.
Developer Friendly – Smart contract can be easily upgraded and an emulator is provided to ease development experience.
Consumer Friendly – With the successful traction of NBA Topshot, Flow has proven with its payment on ramp and scalability to be friendly for mainstream consumers.